Taken with my cell phone cam on the way to meet Kate and the Jauss duo to celebrate my new job. This is from the bottom of the northwest corner of the still under construction Comcast building. This pic doesn't do it much justice. Its wonderful looking structure.  
 
A Creative Commons pic from wikipedia of the building under construction. The building to the left with the pyramid on top is my favorite in the city, the fourth largest in town, the Mellon Bank Tower. It would be Ayn Rand's favorite, I have no doubt. The 1930s style Art Deco is incredible from the street. It looks almost like someone transported it from Chicago.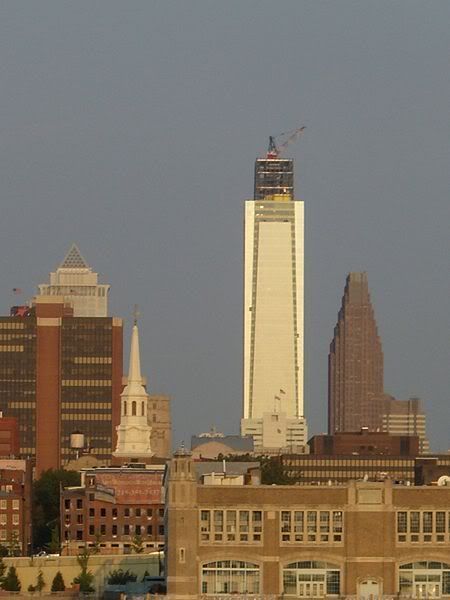 When the Comcast building is complete it will be 975 ft high, with 57 floors. It will be the largest building between Chicago and NYC. It'll be 14th largest in the US and 41st largest in the world.
There's a project on the table, if ever initiated, would probably not start construction til the middle of the next decade. If it ever did get anywhere, there would probably be a number of changes, no doubt. But its good to start dreaming about the next piece of our ever-growing skyline.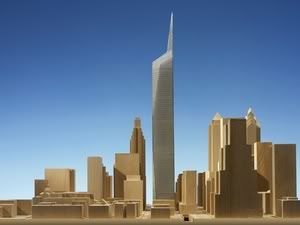 According to the Daily News:
"First, there is a 1,200-foot office tower (topped by a 300-foot spire) that would include 1.3 million square feet of office space (same as the Comcast Tower). But there is also supposed be a 477-foot-tall cubular doughnut that would house 300,000 square feet of retail in a five-level base, and a hotel located in the southern leg of an open rhomboid.
The architects, Kohn Pedersen Fox of New York, envision three plazas, which would host various cafes, a movie-theater complex, and the hotel ballrooms. The dense array of activities could, theoretically, be a smaller Philly version of the shops at Time Warner's building in Manhattan. There's even space set aside for an upscale supermarket in the lower level, just like Time Warner's Whole Foods space.
The architects have done some clever things with the design, such as hollowing out the lower structure to preserve some views for the Stirling on JFK Boulevard. The top level of the open rhomboid would have gardens and meeting rooms that could do double duty as a conference center for the office tenants and ballrooms for the hotel."